According to CCNMoney, Sarah Plain just paid $1,695,000 for a house in Scottsdale. Here is a picture of the supposed purchase published on CNNMoney: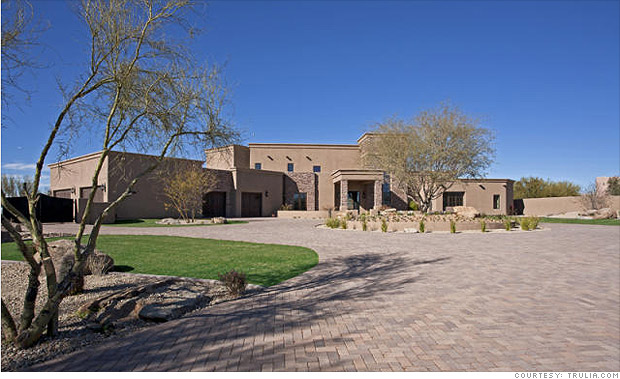 Five minutes of digging into Maricopa County tax records yielded the following sale at exactly $1,695,000 recorded to Safari Investments LLC on May 13, 2011:
29005 N 82ND ST
SCOTTSDALE, AZ 85266
This property was listed as MLS #4539196. Here is the picture from MLS listing:
Does it look like the same house? You be the judge.
Did Palin get Ripped Off?
According to the same public tax records, this house previously sold as a foreclosure to an Ian Whitmore for $803,650. If this is Sarah Palin's house, she certainly paid a pretty penny for it. SHE PAID FULL PRICE IN A DEPRESSED MARKET! The woman didn't even negotiate a lower price—people think she is presidential material?
Ian, my friend, how does it feel to stare a gift horse in the mouth?